Have you ever wondered whether it is possible to track in real time any flight over Europe, North America and other regions of the world?

Welcome to the New Version of AirNav Live Flight Tracker, the first and only flight tracking application that integrates flight data from the FAA Radar Systems (ASDI) and AirNav Systems worldwide Mode-s/ADS-B network resulting in an average of 7000 flight being tracked worldwide.

BRAKING NEWS: The best ft software got even better: easy, fast, reliable. New graphics and user interface. Track blocked flights. New flight data source information. Check aircraft registration. Optimized flight data processing routines. Auto detects your location. Automatic Airport Weather information. Auto save of all application settings. based on robust RadarBox software technology. Different colors for different flight stages. More frequent screen updates.

Download a Free Trial Now
(31 Mb) Install, run and click the Demo button.
1
Coverage
Europe, United States, Canada, Atlantic and other regions
2
Details
Aircraft type, origin, destination, altitude, speed, progress, operator, registration (ADS-B)
3
Tracking Options
Track flights by airport, airline, fleet, follow a flight from origin to destination
4
FleetWatch
Know the status of your own fleet including inactive flights
5
Data
Worldwide airport, navigation aids and airspace database
6
Sources
US ASDI (full US/Canada coverage), AirNav Mode-s/ADS-B network (worldwide coverage)
7
Blocked Flights
US users - Track blocked flights for free Learn More
8
Support
Professional H24 email support
9
Graphics
Multi window tracking, quick maps, flexible Interface
10
Windows
Full power of a Windows standalone application
For the first time a flight tracking application integrates FAA and Mode-S / ADS-B data sources resulting in a Worldwide coverage.
Screen Shots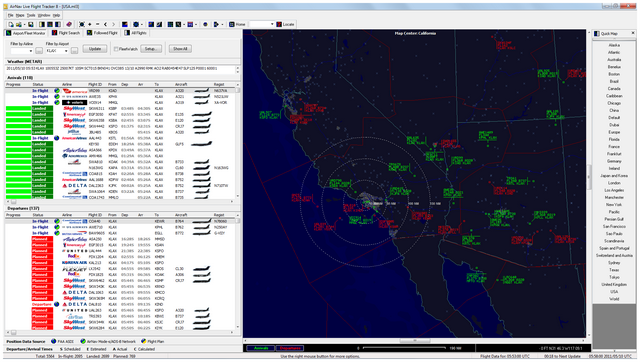 Help and Manual:
Download AirNav Live Flight Tracker Manual


United States Edition


European
Edition


Worldwide
Edition


Professional
Edition
US, Canada, Caribbean
coverage
Europe coverage
Worldwide coverage
Worldwide coverage
Weather Overlay for the United States (NexRad, Cloud)
Track unlimited number of NBAA Blocked Flights
Track flights based on Flight Plan Data
| | | |
| --- | --- | --- |
| | | |
Data Sources
United States ASDI and RadarBox Worldwide Mode-s/ADS-B Network (Professional Edition can track flights using Flight Plan)
FleetWatch
Fleetwatch: monitor your fleet status H24
ADS-B
Fully prepared for ADS-B NexGen technology - integrates ADS-B information
All Flights
Airline and general aviation flights included
Follow a Flight
Track a flight function
Tracking Options
Track flights by operator, airpor

t

Graphics
Superior graphics and interface
Unlimited
Unlimited number of tracked flights
Account Info
Account information window inside the application
Low Bandwidth
Low bandwidth requirement / faster downloads of data
Weather
Realtime weather (METAR)
All Airports
All airports listed even very small airfields
Locate
Locate feature: center your map in any city, airport or aviation navigation location
Technology
Based on the award winning AirNav RadarBox Technology
Share
Share screen shots with your friends
Your Location
Automatic detection of user location